https://jobs.yha.org.uk/wp-content/uploads/2016/03/Carolines-Blog.jpg
3216
4288
Ruby Higton
https://jobs.yha.org.uk/wp-content/uploads/2015/08/YHA_Logo_CMYK_green_v7.png
Ruby Higton
2016-03-23 17:20:57
2016-03-24 09:32:13
YHA Youth Conference by Caroline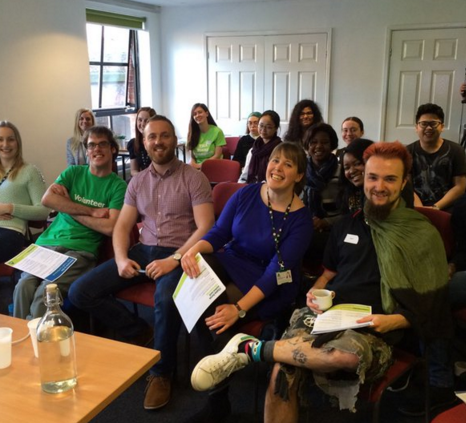 https://jobs.yha.org.uk/wp-content/uploads/2016/03/Emilys-blog-1.png
606
466
Ruby Higton
https://jobs.yha.org.uk/wp-content/uploads/2015/08/YHA_Logo_CMYK_green_v7.png
Ruby Higton
2016-03-23 17:17:41
2016-03-24 09:31:06
YHA Youth Conference by Emily
Daniel travelled to Geesthact as part of YHA's Exchange Programme. We're so pleased to be able to work with our HI partners to deliver amazing volunteering experiences, giving volunteers a chance to see the world, build skills and meet new people!
This week in Geesthacht was truly unforgettable. When I arrived at the Geesthacht youth hostel, I was met by Dominic and Sabina who welcomed me to the hostel. Once I heard the other teamers arrive in the car with their music booming, I knew I had let myself in for more than I expected. The barbeque was really interesting because I got to know the people in the hostel and was a good ice-breaker for everyone. My fellow English volunteers arrived about 5 hours later due to their flights being delayed, although they were still in good spirits.
The day arrived and the children flocked in. Everyone was extremely busy checking-in the children and showing them to their rooms. I was asked to play football with the children in my Great British onesie and I really enjoyed playing with them. Although, a few of them were very dramatic on the field.
Two days were designated to trips to Geesthacht and Hamburg. Each day was very different and I went to Geesthacht both days. I am glad I went to Geesthacht both days because I was introduced to an awesome energetic and strategical game called Stratego. This was played after everyone completed their orienteering from the youth hostel to the peninsula. The winner of Ultimate Ninja decided which team would leave the hostel first. This addictive game was played copious times throughout this week.
The Geesthacht and Hamburg days were separated by a survival day. The children built their own huts in the woods and the results were incredible. This was all in preparation for an exhausting game of Tornado where we were all separated from each other in the woods and we had to make our way back to our village. I had to walk on all fours and I had to agree with everything so I spent this entire game carrying everyone on my back.
Maggot's Beatdown was certainly one of my highlights. The teamers were gladiators and there were fun events that we were champions in. I enjoyed the activities I was chosen for but I preferred watching my fellow teamers being chosen for events they were abysmal at, especially Kiah in wall-sit.
The last full-day was jet-packed like the other days. The children could choose from different activities but my activity was by far the most thrilling because we played Stratego in the woods. We finished a bit early so came back and played football with another group. The casino night was a complete success. I was the co-ordinator of the fight-club where I would choose a fun event for two children to compete against each other in such as wall-sit, flip cup or bottle-hold.
The final day was upon us and everyone was busy tidying the rooms and packing their bags. The honey shower was a perfect end to this week because this gave the children and teamers a chance to say what they liked about the people around them.
Evening activities were held daily and there were a range of choices. I was responsible for the club room and we had bundles of fun in there. The children kept coming back so I was doing something right.
In brief, this was an extraordinary week, crammed full of late nights preparing for the next day, incredible days in Geesthacht, entertaining games (Stratego and Contacto), Maggot's Beatdown, craziness in the club room, language hour and a honey shower to top it off. It was enriching to see the children grow as the week went on, both in English speaking competence and personality-wise as well. I would recommend this opportunity to anyone who likes to travel and has a strange but fun character about them. Every teamer had their unique quirkiness and this made for an incredibly special week. I am really looking forward to working with a few of these teamers in a few months and hopefully for years to come. Thank you YHA for giving me this memorable experience.
Have you had a fantastic volunteering experience and want to share it with the YHA community? Do you want to have your own fun volunteering adventure? Get in touch! Email [email protected] or call 01629 592 562.
https://jobs.yha.org.uk/wp-content/uploads/2015/08/YHA_Logo_CMYK_green_v7.png
0
0
Ruby Higton
https://jobs.yha.org.uk/wp-content/uploads/2015/08/YHA_Logo_CMYK_green_v7.png
Ruby Higton
2016-03-10 10:28:41
2019-09-12 11:20:45
"This week in Geesthacht was truly unforgettable…"