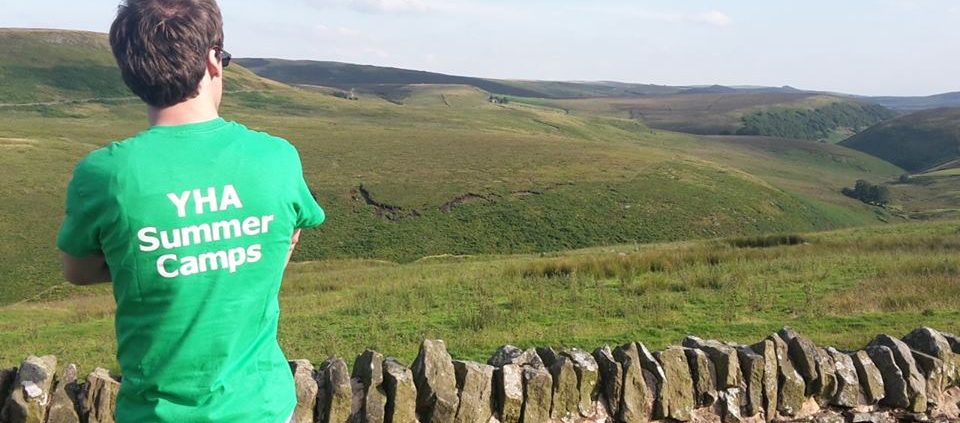 Kate Lansley, YHAs Youth Engagement Coordinator, had coffee and a chat with Laurence Perks, YHA volunteer and all-round superstar, to find out more about his experiences with the organisation.
KL: So Laurence, you've given YHA over 250 hours of your time since summer 2015. What made you want to get involved with YHA in the first place?
LP: Initially, I was very impressed by the YHA's potential to offer a summer camp experience without the high costs associated with the experience of spending a summer working abroad that seems to be so commonplace amongst the young people of my generation.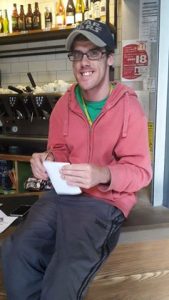 KL: What different volunteering roles have you done with YHA?
LP: I've volunteered for the YHA in a variety of roles since the summer of 2015 including YHA Summer Camps Volunteer Team Leader at YHA Edale in the Peak District and as a YHA Young Champion where responsibilities involved speaking as part of a focus group at the AGM earlier this year.
KL: Do you have a favourite role?
LP: I love being a Team Leader on Summer Camp! Outdoor learning is something that I have a real passion for, so to be able to play a role in encouraging young people to push their boundaries and comfort zones and learn some practical life skills outside of a standardised classroom environment is something that I love to do!
KL: What about a favourite YHA moment?
LP: I've made so many great memories with the YHA so far; many of which are centred on helping young people to overcome their fears or own personal challenges and discover new things while at summer camp whether or not that be a fear of heights, a taste for new foods or observing new friendships flourish by the end of the week they spend together.  But, from a personal point of view, my favourite YHA moment happened quite recently when I was lucky enough to hear Alex Staniforth, adversity adventurer, public speaker and YHA Ambassador, share his story and speak about how our biggest obstacles will always be ourselves; truly inspiring stuff that I took a lot from!
KL: Has volunteering with YHA given you anything, or done anything for you?
LP: It's given me more than I ever thought possible – honest! Some of the greatest friendships I've got were born out my volunteering with the YHA.  The care and attention that the Volunteering Team provide to every volunteer from the start of, during the course of and for long after a voluntary placement has finished is outstanding and I cannot speak highly enough of their efforts.  They have always been on hand after my volunteering to provide helpful hints, tips and advice on how to make those experiences stand out on a CV and since starting my volunteering story, I've seen a definite increase in the number of job adverts where I'm getting though the first selection phase and invited to interview and when I'm asked at those interviews to provide evidence of my leadership, team work or communication skills – I always pick a YHA example!
KL: What would you say to someone who is thinking of getting involved with YHA, but they're not sure yet?
LP: Just give it a go; you don't know where it could lead! Even if you're not sure what you'd like to try, get in touch with the Volunteering Team and get them to talk you through what they have available – there's something for everyone's interests and time commitments.
KL: So… coming back to camps next year?
LP: Of course! I'm actually returning to YHA Edale Summer Camp this year as a Senior Volunteer Team Leader and I'm really looking forward to getting stuck into the extra responsibilities of assisting the Camp Manager in the planning and organisation of evening activities for the campers and supporting the Volunteer Team Leaders to ensure we deliver a high quality and enjoyable experience for 100 campers every week.
A big thanks to Laurence for talking to us about his YHA adventures! We're sure we will see you soon!
If you'd like to start your YHA volunteering adventure, please get in touch with the team. You can call us on 01629 592 562 or email [email protected].

https://jobs.yha.org.uk/wp-content/uploads/2016/07/YHA-Summer-Camps-1.jpg
540
960
Ruby Higton
https://jobs.yha.org.uk/wp-content/uploads/2015/08/YHA_Logo_CMYK_green_v7.png
Ruby Higton
2016-07-21 11:43:47
2016-07-22 11:09:10
Coffee and chat with a YHA Volunteer