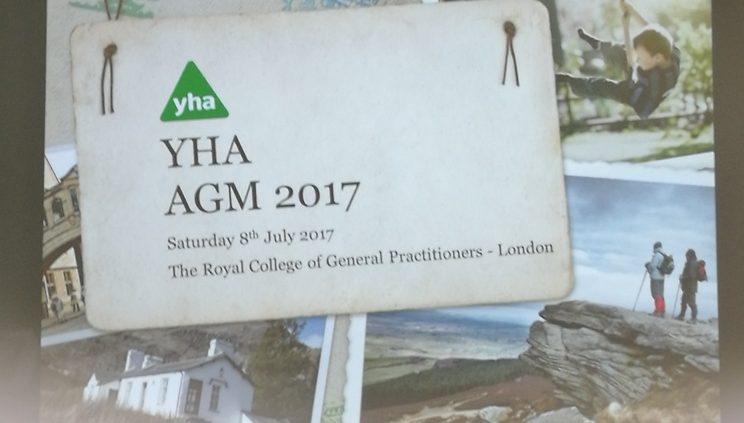 We recently held our AGM on the 8th July 2017 in London and the day went really well and was a great success.
We had some amazing volunteers helping us on the day and we've received some brilliant feedback from them.
Barbara Everest has been volunteering with us for over 25 years and had nothing but praise for her day on Saturday.
"The venue at the Royal College of General Practitioners was stunning. Wonderful auditorium and conference rooms.
The atmosphere was positive and vibrant. Lots of information about the current and future plans for the YHA including the building of an 800 bedded hostel in Stratford, London.
The event went smoothly with lots of positive feedback from the delegates.
Many delegates got to meet the new CEO for the first time.
The venue was in a central location next to Euston station.
The whole day was organised very efficiently thanks to Louise and the admin team from Matlock.
The YHA volunteers really enjoyed helping out and working together with the admin staff from Matlock. Many said they would return next year to volunteer."
We have also had wonderful feedback from Atalanta Tolputt who starts an Events Management degree at university in September, she felt like this opportunity really helped to get her "foot in the door" for what's to come on her degree.
"I really appreciate YHA for letting me help out on Saturday at the AGM meeting. It was a truly brilliant experience and I truthfully, really enjoyed it and enjoyed being a part of it. 
I was allocated to the making memories workshop and I really enjoyed hearing stories of the delegates' times with YHA and best memories. Its amazing how many memories the delegates have. I spent the morning standing by the stairs and greeting people. Helping them find their way around ie: where to sign in, the cloakroom, toilets and pointing them in the direction of the trustee videos. 
There was nothing I didn't enjoy. The food was great, the venue was beautiful and the staff helped me feel comfortable. It was the first time I had ever done anything of this nature and I would love to do it again. 
I couldn't suggest anything to do different. I thought it was all brilliant and extremely organised and it was a pleasure to help. I found the financial part of the meeting very interesting as I studied business for A-level. The growth of the organisation is unbelievable. The guest speaker was amazing. Her story was so moving and eye opening. It just shows that you can do anything you put your mind too. So inspired after the whole event to get out there and explore some more."
It's great to hear that our volunteers really feel like they gained valuable experience and insight into the company through their day of volunteering!
https://jobs.yha.org.uk/wp-content/uploads/2017/07/IMG_20170708_103439_resized_20170711_123045792.jpg
992
744
Ruby Higton
https://jobs.yha.org.uk/wp-content/uploads/2015/08/YHA_Logo_CMYK_green_v7.png
Ruby Higton
2017-07-14 11:25:19
2017-07-14 11:25:19
AGM 2017