The role
The great thing about a seasonal job with YHA is the sheer variety that the role offers. You'll get involved in all aspects of running the hostel, learning plenty of new skills and different approaches, including:
Working on the reception to check in guests, answer queries and make sure every customer has the best possible experience.
Preparing food in the kitchen and serving meals to our guests, maintaining our high food and hygiene standards.
Keeping us looking our best by assisting with the general housekeeping, from cleaning bathroom facilities and making beds to sprucing up the communal areas.
In some locations you might be asked to assist with our outdoor activity packages.
You may also support conferences and events held at our hostels.
Don't worry if you've never worked a season with YHA before, or if you're unfamiliar with one or more of these tasks. You'll come along to an induction day to get to grips with your new role and to get settled in. We'll take you through everything, from housekeeping to safeguarding.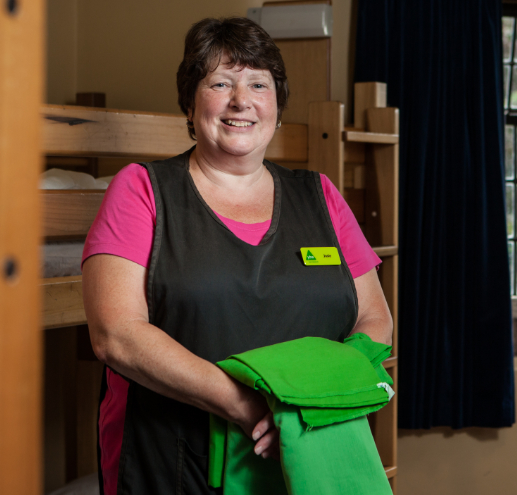 YHA has unique properties spread throughout England and Wales' most iconic and inspiring places. A seasonal job could see you behind a bar 20 metres from the shore of Lake Windermere, looking after an 800-year-old castle or welcoming school groups to the steep sides of Snowdonia. You won't be short of places to explore in your free time, that's for certain.
Perks of the job
We're able to offer staff accommodation at some of our properties and we will try to make this clear on our adverts. We offer flexible contracts to our team members (usually a minimum of 25 hours working up to 42.5 hours per week), but we can also look to offer fewer minimum hours to suit your needs too.
Health cash plans
You'll have access to a health cash plan to help you manage the costs of everyday health expenses.
National Living Wage
We pay the National Living Wage for all ages.
Stay for free
Enjoy 10 free YHA overnight stays a year.
Generous holiday allowance
You'll have plenty of time to explore the local area. We'll also give you up to five additional days to volunteer with YHA.
Flexible approaches to working
We offer flexible working patterns.
Get fit at discounted rates
You can enjoy reduced price gym membership nationwide, as well as other fitness savings.
Money off your meals
You'll get reduced price meals on the days when you're working.
Support at work
You'll have access to a number of support networks to help take care of your health and mental wellbeing.
How to apply
If you're interested in applying for a seasonal role at YHA, click on the button below to apply. You can also follow us on Twitter and Facebook for updates.
Have more questions?
Feel free to contact us via our website – a member of the recruitment team will get back to you as soon as possible.